History
"The Canyon" and Santa Monica Canyon Civic Association are intrinsically connected.
Santa Monica Canyon is a very special, magical nook of neighborhoods near the Pacific Ocean with ancient trees, streams, wildlife, secret stairs, beauty, lore and history that "Canyonites" call home. We are all committed to maintaining that magic. There is definitely a "canyon spirit" felt here.
There are two wonderful historical books about this special Canyon. If you don't know about them, you must get them! One is written by two beloved and noble Canyonites, mother and son Betty Lou Young and Randy Young titled "Santa Monica Canyon -- A Walk Through History". We are so humbly grateful to them for documenting the history of the Canyon in stories, historical content and photos.
Another book written by one of the Canyon's favorite sons, Ernest Marquez, is titled "Rancho Boca de Santa Monica", provides history, stories and photos about the 1839 California Mexican Land Grant, and the Marquez and Reyes families who were the early settlers and rancheros within the Canyon. The family rancho was called Rancho Boca de Santa Monica. The rancho was located at the mouth of Santa Monica Canyon.
Click to Read More
One of the last remnants of the Boca de Santa Monica land grant, is the Pascal Marquez Family Cemetery on San Lorenzo Street. This sacred ground is California's sole existing private family cemetery of that period.
Click to Read More
Santa Monica Canyon Civic Association has its roots starting in 1926 as "The Santa Monica Canyon Improvement Association" after the Canyon became part of City of Los Angeles. The Association was instrumental in obtaining improved access roads into the Canyon and improving the entrance to the Canyon.
In 1938, the "Santa Monica Canyon Chamber of Commerce" was formed. The Chamber was successful in advocating for more storm drains following a horrific flood which devastated much of the Canyon. And then in 1947, the Chamber reorganized and Articles of Incorporation were signed formalizing the "Santa Monica Canyon Civic Association" (SMCCA) with 19 Founding Directors.
In 1953, SMCCA solicited funds to purchase the old Rustic Canyon Racquet Club (formerly the Uplifters Club) and grounds for what is known today as the Rustic Canyon Recreational Center. SMCCA donated the property, along with the neighboring eucalyptus grove, to the City of Los Angeles. Also, SMCCA was instrumental in ensuring that in 1967-68, the redesign of PCH didn't negatively impact the intersection at the mouth of the Canyon or take away a wide stretch of Will Rogers Beach as was originally planned by the state highway department.
Click to Read More about SMCCA History
We would be remiss if we didn't also acknowledge with heartfelt gratitude, George Wolfberg, who served as Association president for more than 20 years.

Click to Read George's memorial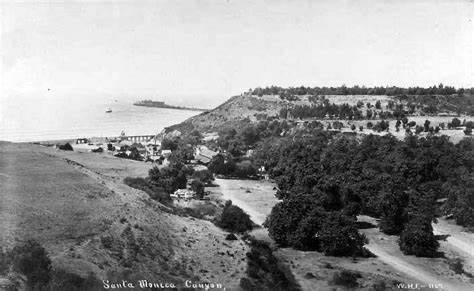 Old Santa Monica Forestry Station in Rustic Canyon
Read More
Rustic Canyon Recreation Center
Rustic Canyon Recreation Center